When you hear Napa Valley, you imagine wineries — vast expanses of vineyards across acres and acres of land with hill slopes that look like they were groomed with a wide-toothed comb.
Napa Valley enjoys a dry Mediterranean climate, which makes it perfectly suitable for cultivating fine wine grapes. This wonderful weather also garners several tourists who come pouring in to visit its beautiful landscapes and get a taste of its world-class wines. 
Napa County, just 50 miles north of San Francisco, offers legendary wines indeed — but there is more to Napa Valley than just its wines. In fact, you can do Napa Valley in just one day.
Allow us to take you around this unpretentious place, buzz-free.
First up is the Oxbow Public Market. As you drive into the Oxbow District in downtown Napa, you'll be met with a sprightly marketplace — a community gathering spot for local food and needless to say, wine. 
The Oxbow Public Market showcases a diverse mixture of vendors spanning across artisans, farmers, and food vendors. 
You can shop for organic, locally sourced produce, cheese, bread and meat, participate in wine, beer, and olive oil tastings, and watch cooking demos, all amidst the setting of excited tourists scurrying around to find the most authentic souvenir to take back with them.
The Public Market also houses a good scenic outdoor area that overlooks the Napa River. So grab a bite to eat and enjoy your meal at the deck.
On the other side of the First Street Bridge is the more vibrant Napa Valley Downtown — a short walk from the Oxbow District through the China Point Park along the bridge.  
Casual pop-up stalls, world-class art collections and intimate music scenes, greet you first, lifting your spirits up as you enter. And the boutiques, and restaurants that lace the streets add to the flavor of this area, giving you a treat for all your senses. 
If you are still wondering where to start, stop by the Napa Valley Welcome Center. The staff is super equipped with expert knowledge and a passion for sharing the best that Napa Valley has to offer.
Our recommendations: 
Do stop by Napastäk, a little boutique that sells classy balsamic vinegar, olive oils, chocolates, jam and jellies, and of course wines. 
And if you are a chocolate fanatic, do not miss out Anette's Chocolates — a chocolate shop which sells artisan truffles, caramels, sauces, creams and ice creams. We urge you to stop by even if you are not into chocolates  because this place may just change your mind. 
This small luxury-town has unparalleled wineries and a wine country lifestyle. Yountville is also very popular for its culinary proficiency. Make a quick stop at Yountville to explore one or more of their many famous restaurants.
A friendly tip, do make a reservation much ahead of your arrival for lunch or dinner because the restaurants get real full real fast.
A town synonymous with nature, St. Helena, has some of the most picturesque sceneries in Napa Valley. Paired with Michelin-star culinary delights alongside expansive wineries, this place has a lot of experiences that make you want to have a moment to take it all in.
You can rent bikes at the St. Helena cyclery to tour the side streets of this town. Get adventurous too and go up 15 miles of trails at the Moore Creek Park in the Pope Valley. 
While you're in St.Helena, don't miss out on the 13th century-style Tuscan castle — a true architectural masterpiece built with 1 million antique bricks imported from Europe. 
The Tuscan castle is open on a reservation-only basis so book ahead.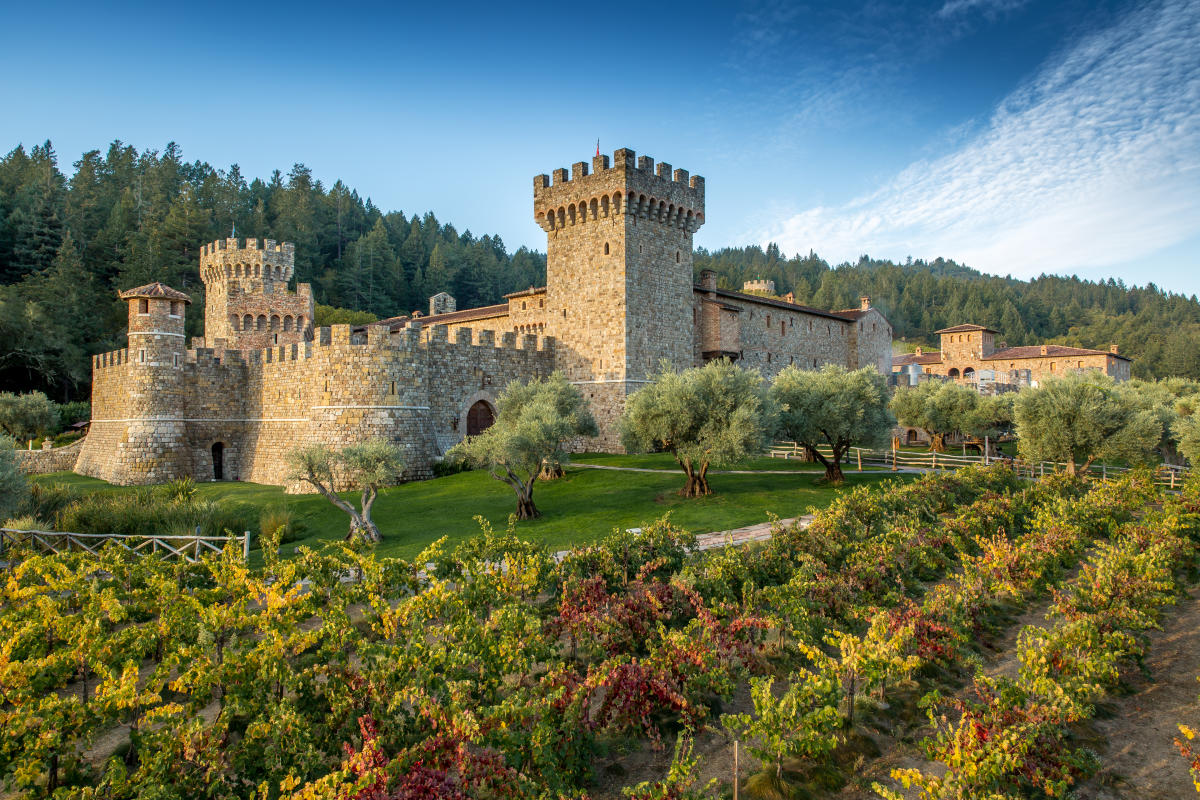 So, there you have it. A 'not your usual'  Napa Valley day trip sans wines. That said, do not miss out on the wineries and vineyard tours either. You will go for the wines, but we can vouch that you will stay for the scenery.